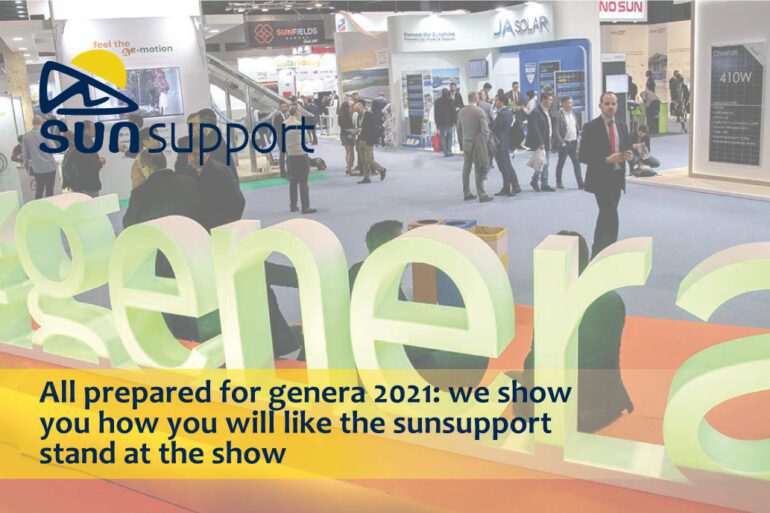 All prepared for genera 2021: we show you how you will like the sunsupport stand at the show
Everything is ready to welcome you to Genera 2021, the International Exhibition of Energy and the Environment, which will hold its next edition from November 16 to 18, 2021 at IFEMA.
As we had planned in the previous weeks, our company will be present at the IFEMA exhibition center in Madrid at the Genera 2021 fair from November 16 to 18, 2021. Our team prepares every detail so that you know each and every one of our services as well as the quality of our products.
At SunSupport, we are a company specializing in the production of support structures for photovoltaic installations. Our team of technicians has a long history in the sector, which allows us to bring our knowledge and experience acquired in recent years in the design of efficient renewable energy solutions for photovoltaic self-consumption.
Design of our stand
We already have a picture of the appearance of our stand at the show. We will present our entire catalog of load-bearing structures for photovoltaic installations to you. In addition, you will be able to see some of the latest installations that we have done in recent months.We would like to point out that our company has developed 200 MWp in facilities located in Europe, Central America and Africa. We put at your disposal our specialized team of engineers and operators to carry out your project.
You can find the highest quality and performance in our entire catalog of photovoltaic structures. All our models have adaptable fixing systems. They are made of durable and tough materials to withstand different weather conditions, such as Magnelis steel.
We look forward to seeing you at Genera 2021 from November 16-18.
---
¿Tienes alguna duda sobre este blog o sobre los servicios que ofrecemos? Escríbenos